The God I love to hate has been spewing all things awful right into my mouth hole. To combat his endless attacks on my psyche, I decided to make a few adjustments to my living quarters.
I bought curtains y'all! Now my room can be a little closer to being as dark as I feel on the inside. I moved the continuity plagued Lego Star Wars poster the other side of the room. I plan on putting some new prints where the poster used to be.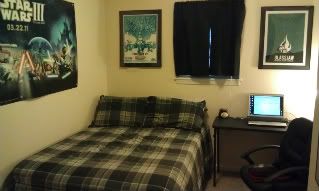 I hung up these bad boys in the bathroom. Now I can get my Force on while I get my wash down. I can't make the artist's name because I do not know how to read cursive. Shut up. Here's a link to their Etsy profile http://www.etsy.com/people/MisNopalesArt?ref=pr_profile.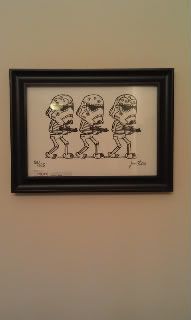 I convinced my Dad to let me have this awesome picture of my Grandfather and Uncles. Never playing Hockey is my only regret in life.
I also made a few minor adjustments to the living room. Maximum Poo Piss Coffee Table Hangout, ENGAGE!
The changes are small but I feel a big time difference in the cozy level of The Fuzzy Pat Poo Palace.