Sunday, August 14, 2011
This weekend our friend Steve Turner dropped in to do a guest spot. After a few days of heavy duty tat banging he decided to unwind at the good ol Opossum Holler Show. The events that unfolded are that of legend.
Here Steve is entranced by Sheilas moves. The harpy of the hardwood was the apple of Steve's eye. Observe as they move and sway in a way that proves love conquers all.
The two lovers couldn't keep their hands off each other. I wanted to know what love was. They showed me.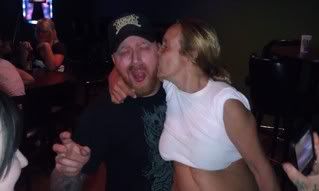 With Steve gone, Sheila dealt with her heartache in the same manner that cats display anger and loneliness. She pissed her pants.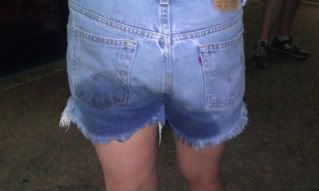 Posted by

Patrick
at 1:04 PM
No comments:

Monday, July 4, 2011
When I see a tweaker buying Redi Whip I chuckle to myself because I'm pretty sure I know what he's REALLY going to do with it. When I see a fat girl buying Redi Whip I laugh out loud because I know what she's REALLY going to do with it.
Posted by

Patrick
at 8:04 PM
No comments: